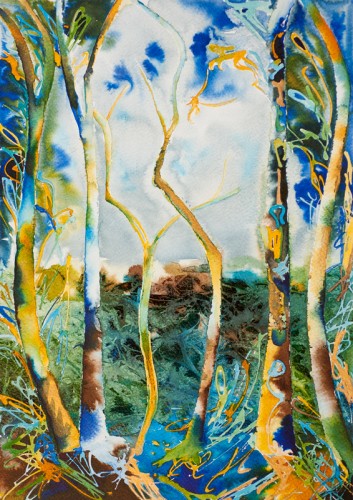 The Russell-Cotes Art Gallery & Museum is pleased to welcome back renowned local artist Abi Kremer with our new selling exhibition, Echoes of Woodland. The exhibition runs until Sunday, 30 March 2014.
The enclosed and atmospheric woodland settings of Holton Lee have long provided Abi with rich and diverse source material, which she has interpreted into her work as a celebration of growth, movement and light. With Echoes of Woodland Abi has explored the relationship between landscape and prior influences of music and dance and has taken inspiration from the imagery of the natural world, with structured elements appearing against wonderful dream-like backdrops.
All works on display are available for purchase.
Artist's Talk: Sunday 2nd March 12 – 12.30 pm. An informal discussion of works on display in the Gallery.
Experimental Watercolour Workshop: Saturday 8th March 11.00 am – 4.00 pm. Booking essential on 01202 451820
Saturday workshop full. Additional workshop: Sunday 9th 11.00 am-4.00 pm.
For more information visit www.russellcotes.com